Our garden is an inviting space with tranquil relaxation areas featuring lake views, hammocks, swings and lounge garden chairs – perfect for reading or just enjoying a natural peaceful setting at your leisure.
We have carefully selected and planted many trees, bushes, vines and flowers to make our garden more lush and fertile. There a several terraced areas in our back garden, the two upper terraces have been designed for enjoyment and relaxation and the lower parts have been planted with a variety of organic vegetables which we use in our cooking. One of the central features of our front garden is the pond.
We have also installed a garden meditation pyramid for those interested to explore more ways to still the mind and re-energize.
It's a scientific fact that the geometric structure of the pyramid collects and radiates energy. When we meditate under a pyramid, we are exposed to a higher concentration of "prana", the life-force energy. This unusual power of the geometrical shape of the pyramid has been known since the ancient times. The pyramids in Egipt have preserved various organic materials without decaying for thousands of years, for example grains of wheat which were 3000 years old and still grew after being planted in our times.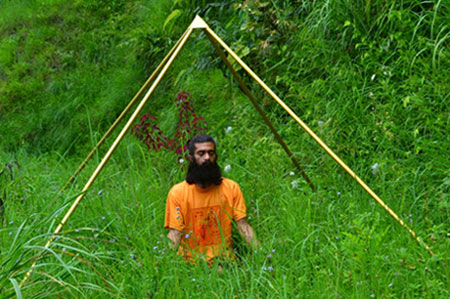 Many people report feeling more calmness and inner peace as well as rejuvenation after meditating in a pyramid so we invite you to experiment.